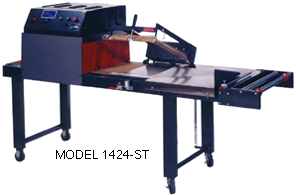 The ALINESYS.com 1424-ST Unitized Shrink Wrapping System is perfect for a wide variety of shrink wrapping applications worldwide. Each machine is built to exacting specifications and the serviceability and reliability are second to none in the shrink wrapping industry.

ALINESYS.com has a long history (since 1940!) of designing and manufacturing top quality, rugged and reliable heat shrink machinery and equipment.
ALL ALINESYS.com Heat Seal machines are proudly made by our craftsmen in the United States of America and are backed by the best warranty in the shrink wrapping industry.
When you need reliable, affordable shrink wrapping machinery or equipment, there is only one logical choice...
ALINESYS.com Shrink Wrapping Systems!