ALINESYS.com is proud to provide an incomparable line of PLC/TOUCH-SCREEN temperature control units for all thermal impulse heat sealing applications.

Each seal is repeatable and guaranteed to be air tight and watertight.
Our trademarked PreciseSeal TM process is proven accurate to within one degree of set point regardless of temperature setting!

Every Aline temperature controller is ideal for new machinery or for previously built impulse sealers and perfectly suited for medical or pharmaceutical use where FDA/NIST certificates of calibration are required.
Additional heat sealing applications for the Aline temperature controller line include form-fill & seal, vacuum, bag making and bag sealing.

Aline also provides components such as transformers, seal bars, heating elements and pneumatic packages. The Aline PLC can easily be integrated to operate with a signal from your current PLC, Master controller or other method of activation.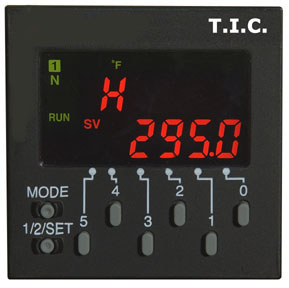 Standard features
Six process recipes with password protection
16 color LCD touch-screen (4.61" by 3.36")
or monochrome screen (3.82" by 2.83")
fast PID temperature control with auto tuning
seal counter by process and/or total
digital pressure settings with high & low alarms
for vacuum applications
With your choice of...
Ø
vacuum & seal
Ø
purge
& seal
Ø
purge, vacuum & seal
Ø
vacuum, purge & seal
Ø
multi-stage purge and vacuum
Seal only switch
Accuracy to within 1°F.
Calibration screen for all settings.
Single or multiple Thermocouples with independent heat control
Temperatures of up to 800°F