Aline Heat Seal Corp. and Aline Medical Packaging Machinery are proud to announce E.L.V.I.S. a new and innovative program to design your own high quality stainless steel vacuum sealer. This is ideal for all industrial, electronic, food or clean room requirements, we can provide NIST traceable certificates of calibration.

Whether you are an established company or a start-up, this program is unequalled in the benefits provided.

By designing your own sealer, you get:

1) A competitively priced entry level vacuum sealer ideal for managing your costs.

2) The ability to design a sealer to include only the components you need for your application..

3) Each sealer will have the same high quality and durability found in all Aline machinery complete with a one-year warranty.

HOW THE PROGRAM WORKS:

You are given on-line access to a complete menu, which includes a basic stainless steel vacuum sealer with standard features. You have the choice of a 20 or 30 inch tabletop unit. You then select from a menu, the components you wish to add to your sealer.

Some of the options you may select include;
• CHOICE OF PNEUMATIC OR BUILT IN AIR COMPRESSOR
• SINGLE OR DUAL RETRACTING NOZZLES
• ANALOG OR DIGITAL CONTROLS
• FOR MEDICAL SEALING A COMPLETE MEDICAL PACKAGE
• PRESSURE SWITCH, VACUUM GAUGE, GAS FLUSH
• AND MUCH MORE

THANK YOU, THANK YOU VERY MUCH!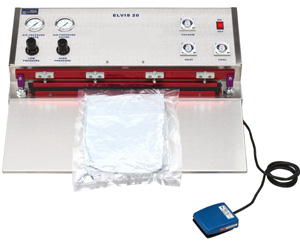 Click here to enlarge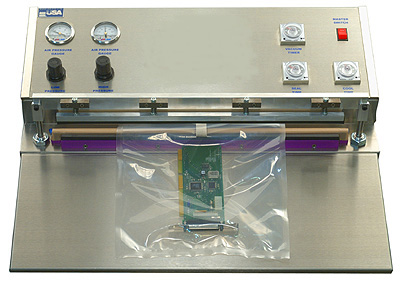 Click here or on the image above to see a larger image of the Aline Entry Level Vacuum sealer