The Vt-570 modified atmospheric packaging machine is ideal for sealing all food items in to trays, cups or containers where extended shelf life is critical. This unit is perfect for all cost conscious small to medium size operators.

The VT-570 will accept all gases or mixes including Nitrogen, carbon Dioxide, Carbon monoxide, Argon, etc. The addition of vacuum prior to gas guarantees that all oxygen will be evacuated from the tray (including corners). The reduction in oxygen should exceed 99.1%.

Each unit is capable of doing 2-4 cycles per minute and is both easy to load and operate. Redundant safety features such as dual start button activation, protective window and Emergency stops guarantee safe operation. All possible options including vacuum, a built in sensor for registered film and automatic film advance are standard on the VT-570. Settings including time, temperature, vacuum and gas are variable.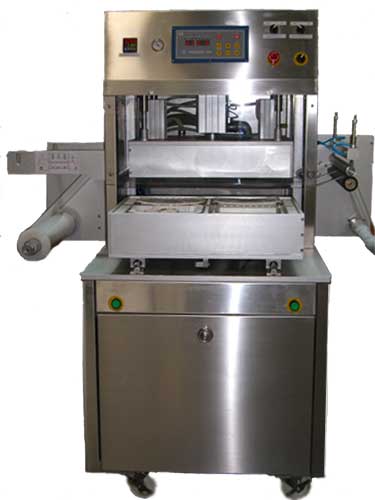 Ideal for beef, pork, seafood, and vegetables
Model
VT-570
Tray Size
7.7"/196mm
5.7"/145mm
Tray Height
3.5"/90mm
Film Diameter
(Maximum)
10"/255mm
Film Web
19.6"/500mm
Vacuum Pump
Capacity
63m3/h (3 hp)
Power / Amp
5kw/30.7A
Voltage
230V/3ph/60Hz
Machine Size
LxWxH
91.5"x52"x51"
2324mmx1320mmx1295mm
Machine Weight
990 lbs.(450kg)
STANDARD FEATURES:
1). Semi-automatic operation
2). Quick change custom machined tray tooling for one or more.
3). Automatic film advance and cutting system.
4). IP-65/NEM-4 rated controls and enclosures.
5). Tray lidding only or modified atmosphere packaging (MAP) capability which
uses a controlled mixture of various gases.
6). Constructed of all stainless steel.
7). Accomodates foam or rigid trays, bowls, or cups in standard or custom sizes.
8). Printed film registration system.
9). Busch vacuum pump 63m3/m.
10). Utilizes flexible lid film.
OPTIONS:
1). Pump size
2). Electricity
3). Cooling system for shrink film

All specifications are subject to change without notice