The ALINE STS-7 Single Tube Sealer is ideal for laboratories, research facilities, R&D and quality control groups.

The unit is economical, safe and very easy to use. Other applications include sealing of small bags, generally medical in nature and minimal production runs.

The STS-7 is a self contained unit with a built in air compressor and solid state heat and cool timers. An adjustable stainless steel shelf with height gauges allow for easy changeover of various height tubes. The STS-7 can be used on all polyethylene, laminated and glaminated tubes.

Dimensions: 14"h x 10"w x 10"d
Shipping Weight: 33lbs.
STS-7D
With temperature Control
Standard voltage is 110 VAC with a 220 VAC option available. The STS-7 comes with a single element for sealing plastic tubes or can be upgraded to a dual element for more difficult applications such as toothpaste tubes.
Detailed operating instructions, sealing tips and a spare parts kit come standard with each order.
Dimensions: 14"h x 10"w x 10"d
Shipping Weight: 33lbs.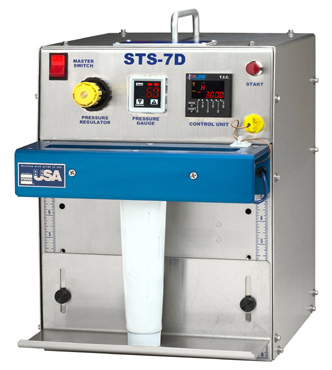 Click here for larger view!